50 years ago, GS1 set the foundation for how we shop. The beep of a barcode is heard in stores around the world an estimated 6 billion times a day and has become synonymous with everyday life. In 1973 though, the process was considered a staggering achievement and paved the way for GS1's momentous success over the decades.
In 2023, the organisation's standards are the most widely used system of standards across the globe which ensures a common language of business. Over 2 million user companies form the ranks of GS1 with local member organisations found in 116 countries. KMsoft is proud to be an approved GS1 partner and of its esteemed accomplishments over the last 50 years. Pete Thomson, Founder and CEO of KMsoft, said:
"We are proud to have been a partner of GS1 for the past seven years. Our partnership has provided us with the opportunity to offer GS1 approved solutions to customers across numerous industries where GS1 standards are of vital importance. These standards have enabled our clients to inherit great success by improving stock traceability, ensuring accuracy and enhancing patient safety. We are pleased to celebrate 50 years of GS1 and the opportunities our partnership has provided."
Our Success Since Partnering with GS1
KMsoft first partnered with GS1 in 2016, with StockAssist later becoming an approved solution for inventory management in 2018. Since then, we have offered affordable, tailored, and bespoke solutions to clients across the industrial and healthcare sectors.
Most recently, we worked with UHNM Royal Stoke University Hospital, which has since enjoyed great success with our GS1 approved solution, StockAssist Medical. Staff in the hospital's pathology department previously had trouble managing stock which hampered time efficiency and resources.
StockAssist Medical was implemented with some slight alterations to meet the needs of the pathology department. With access to real-time data, staff are enjoying full control over stock management which has led to enhancements in patient safety as well as increased time and cost efficiency. Andrew Clarke, Biochemistry, Immunology and POCT Manager offered praise saying:
"It has been a pleasure working with KMsoft. StockAssist Medical has proven very efficient and continues to produce positive results. The staff are very hands-on and really responsive to any issues raised."
History of GS1 and the Barcode
The barcode has become such a quintessential component of the economy that it is hard to imagine it could have such humble beginnings.
The origins of the barcode can be traced back to its original creator, Norman Joseph Woodland, who came up with the concept in 1948. The idea lingered in Woodland's mind whilst he was at the beach, and he began to draw Morse code dots and dashes in the sand. After pulling them downward he came up with the concept of two-dimensional Morse code. Woodland was later employed by IBM in 1951 and wanted to develop the technology but at the time it wasn't financially feasible.
The idea was revisited in 1969 when the US retail industry began actively searching for a way to speed up the checkout process in shops. George Laurer, considered the co-creator of the barcode, was tasked with leading a team to develop the technology in 1970. Many designs were considered in the development process – including a bullseye design -before Laurer and the team settled on the traditional design we know today.
In 1973, the concept of a barcode that met the Universal Product Code standards was formally introduced by industry leaders. GS1, then known as the Uniform Code Council, was founded in 1974 to administer the standard. The subsequent success of the barcode led to its quick integration into the economy.

Image Source: GS1 UK
Scan4Safety
GS1 took its first steps toward the healthcare sector in 1995. Standards were introduced to increase patient safety, drive supply and improve the traceability of medical products. The crowning achievement of the partnership between GS1 and the Department of Health and Social Care in the UK is the introduction of Scan4safety in 2016 which continues to be used today.
The scheme's trial period was carried out across six hospital trusts in England. Barcodes were produced to GS1 standards and used on patient wristbands, equipment used for care and implantable medical devices.
Scan4Safety enjoyed immediate success which enhanced patient safety, led to happier staff, and introduced vital benefits to cost efficiency. A GS1 case study provides the following data:
140,000 hours of clinical time released to care.
Recurrent inventory saving worth nearly £5 million across the six trusts.
Non-recurrent inventory reductions have been reduced to £9 million
Product recall at Leeds Teaching Hospital fell from 8.33 days to less than 35 minutes.
Royal Cornwall Hospital reduced prevented error rates by 76%.
97% of staff surveyed agreed that Scan4Safety reduced the risk of error.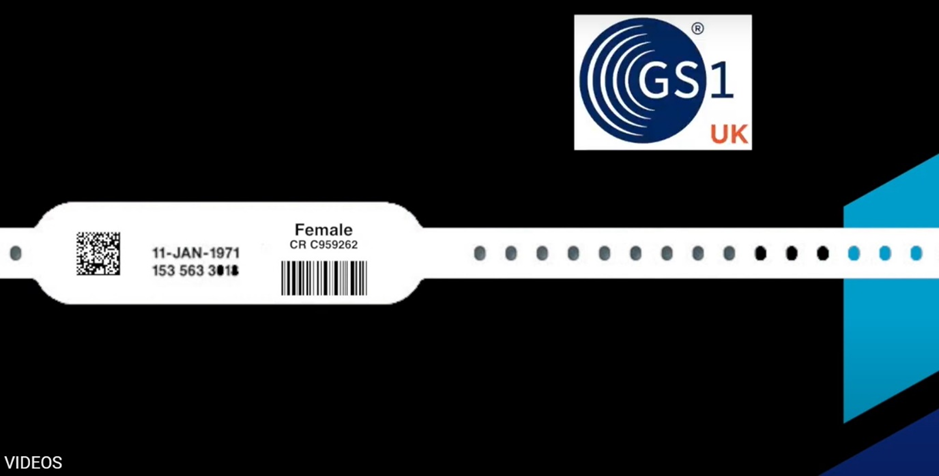 Image Source: Scan4Safety
Effective inventory management is becoming a vital component in the healthcare sector. StockAssist Medical offers a streamlined approach to inventory management and optimises time efficiency, with a real-time and comprehensive view of your stock which manages consumer demand with a cost-efficient strategy.
Get in touch with us to book a demo.